About us
The Ultraman Foundation gives heartfelt cheer and supplies to children, the light of hope for the future.
And it is a fund that will continue to develop support activities for the future of children.
Purpose of
establishing
the Ultraman Fund
Immediately after the great earthquake, we established the "Ultraman Fund" to support the affected areas.
From the bottom of my heart to the victims, especially the children, who are the irreplaceable light of hope that opens up a new future.
In order to give ale, we entrust all our thoughts to "Ultraman", a symbol that protects the peace of the earth and humankind.
This is because I thought it was extremely important to permanently develop support activities for the future.
Our efforts
The Ultraman Foundation continues to support children's present and future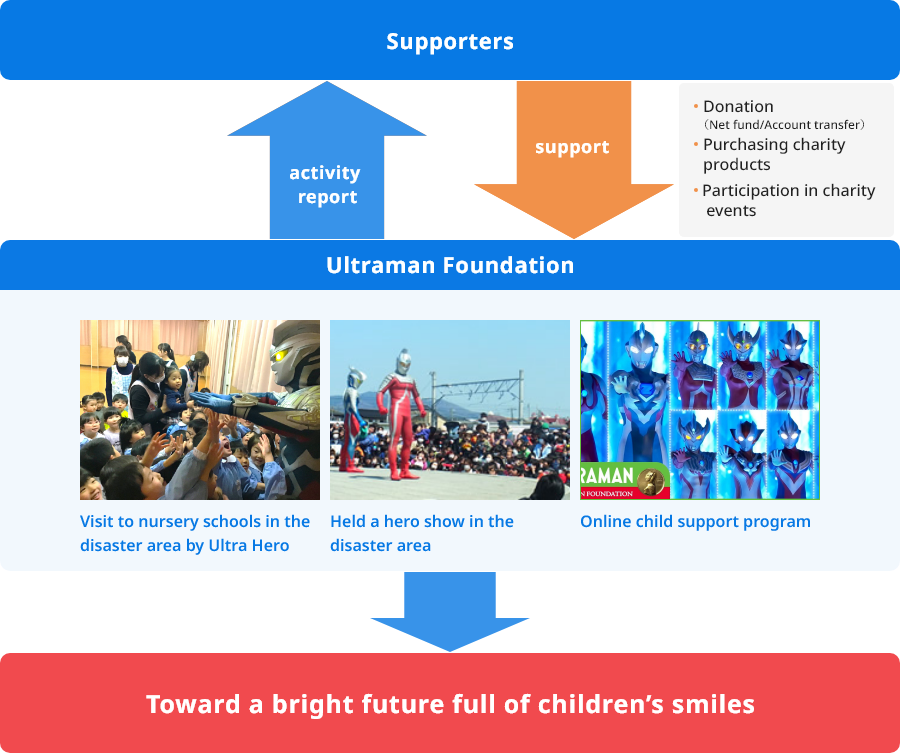 Overview
Foundation Name
ウルトラマン基金
ULTRAMAN FOUNDATION
Chairman
Hidetoshi Yamamoto
(Chairman&CEO of Tsuburaya Productions Co., Ltd.)
Established
March 2011
Secretariat
Tsuburaya Productions Co., Ltd.
Address
E・Space Tower 3-6 Maruyama-cho
Shibuya-ku Tokyo 150-0044 Japan
Contact Us
81-3-5784-0780
Symbol Mark